DEMaEx – Strengthening Bonds
The DEMa-UFSCar Alumni (DEMaEx) was founded in 2001 during the meeting of Materials Engineering Professionals. Since 2019, DEMaEx is an extension activity, being a communication channel between the different generations of professors, students and professionals who participated of DEMa's activities since its foundation. The DEMaEx's goals are:
Mapping the performance of DEMa/PPG-CEM/UFSCar graduates in the labor market.
Survey, disseminate and keep alive the history of DEMa and PPG-CEM.
Strengthening the interaction between DEMa/PPG-CEM/UFSCar graduates and current students, technicians, and professors.
Be a channel to expand the interaction between the productive sector and DEMa.
Create new mechanisms to foment cooperation projects between the productive sector and the university.
DEMaEx's mission
Strengthening the bonds between generations to link the past to the present and build the future.
Prof. Sérgio Mascarenhas Award
Since its foundation, DEMaEx has awarded outstanding students of each materials engineering class. Since 2011, the award received the name of the Prof. Sérgio Mascarenhas (1928-2021), in honor of one of the founders of the materials engineering course and UFSCar itself. Annually, outstanding graduated students are honored. Prof. Sérgio Mascarenhas honored us with his presence in the award ceremonies until 2020. In 2021, the first award in memoriam of Prof. Sergio Mascarenhas will be offered. With this award, DEMaEx aims to honors Prof. Sérgio Mascarenhas in recognition of his contribution to the formation of each bright materials engineer graduated at DEMa-UFSCar.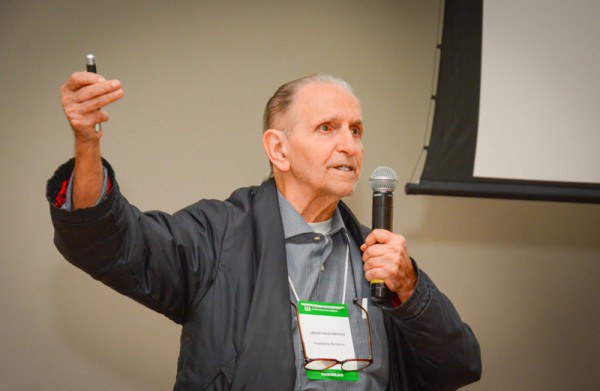 List of Prof. Sérgio Mascarenhas Award recipients
Class of 2019:
Maria Gabriela Garcia Campos
Murilo Henrique Moreira
Class of 2018:
Carolina Ierck Pereira
Vitor Covre Evangelista da Silva
Class of 2017:
Milli Aline Sant'Anna
Rogerio Zulzke Pompermayer
Class of 2016:
João Marcos Conradi Baldin
Lígia Stocche Barbosa
Class of 2015:
Larissa Cristina Sanchez
Thiago Sartorello Spinola
Class of 2014:
Natascha Zocoller Borba
Vinicius Elias Lima
Class of 2013:
Guilherme Yuuki Koga
Marilia Sonego
Class of 2012:
Hevlin Cristina de Almeida Costa
Tiago Santos Pinheiro
Class of 2011:
Cibele Carneiro Pessan
Caio Vinícius Morisco Balarim
Are you part of the DEMaEx community?
To maintain the DEMa/PPG-CEM/UFSCar leadership in training materials engineering professionals is essential to know the trajectory of each former student; understand the evolution of the materials engineering labor market; monitor how DEMa/PPG-CEM/UFSCar graduates contributed to the social and economic development of Brazil and the world.  If you are part of the DEMaEx community, register here (google form link) and tell us your story. DEMaEx will contact you in the future to invite you to the numerous Alumni's initiatives to strengthen bonds in our community.